Among us, there have so many people who like adventure and like to face so many challenges. A mountain bike tour may be such a big challenge when it is your first mountain bike tour. I want to make this challenge so easy, and that's why In this article, I am going to inform you about some necessary things about epic mountain bike touring and the things you should pack before outing for a mountain bike tour. So read the article fast to last and make a safe and enjoyable journey.
What Things To Consider Before MTB Touring
Enabling you to journey farther and faster into the backcountry is the best part of mountain biking than you could on foot. It is not only enjoyable but also adventurous for going on a mountain bike tour. But if you want to enjoy a mountain bike tour, you should consider some things. Basically, these things are more considerable when you go for a long-distance journey of more than 3-4 hours and/or ride farther than 15-20 miles. After considering the Distance/ length of the ride, Weather, Trail traffic/ riding group size, you need some other things to pack for a mountain bike tour.
Things To Pack
For enjoying a journey comfortably, you need to pack some necessary things for an epic mountain bike touring. These things are beneficial if you know how to use these items properly. You must have to pack nutrition, hydration, and identification. But besides these basic things, there are some important things or items that should be considered bringing with you on your next backcountry mountain bike ride. Here I listed some necessary items that you should bring with you when you are going on a mountain bike tour.
Spare Tubes
For a long mountain bike ride, carrying at least two spare tubes is a must. Blasting tubes is a very usual accident while cycling. So you have to be aware of this type of accident in the period of mountain bike touring and should carry at least two spared tubes for your wheel size and, regardless of what bike you're riding. You can also carry a 27.5in a tube because a tweener tube works well enough for 26in and 29er tires in a jam and can help out a fellow mountain biker in need.
Patch Kit
A patch kit is an essential item for going on a mountain bike tour that takes up so little space in your packing. Actually, its importance increases more when you are using your last tube. Normally,  patches without glue don't have patches' longevity but are much faster to apply, and that uses a vulcanizing agent.
Tire pump
Without a tire pump, the two items that I showed above is literally useless. There have two optional items that are CO2 inflators and cartridges. These two items will get you up and rolling quicker. But every time, you will be benefited by a small tire pumper for pumping your tubes or tires. Probably, there haven't any service shop in which you can pump your cycle tires. So, it is better to carry a tire pump with you to pump your tires at any time and in any situation.
Multi-tool
It would be best if you did not go out for a mountain bike tour without a multi-tool. Generally, the multi-tool is a more require able item for a mountain bike. It will be good for you when you will select a multi-tool with a built-in chain tool, a T25 Torx, flathead, and Philips screwdrivers, and at least 2.5 3,4,5,6 and 8mm Allen keys, and the most common spoke tool sizes. Here I will suggest you for carrying the Crankbrothers multi-tool. This is a multi-tool that has a built-in pair of pliers, and wire cutters are even better.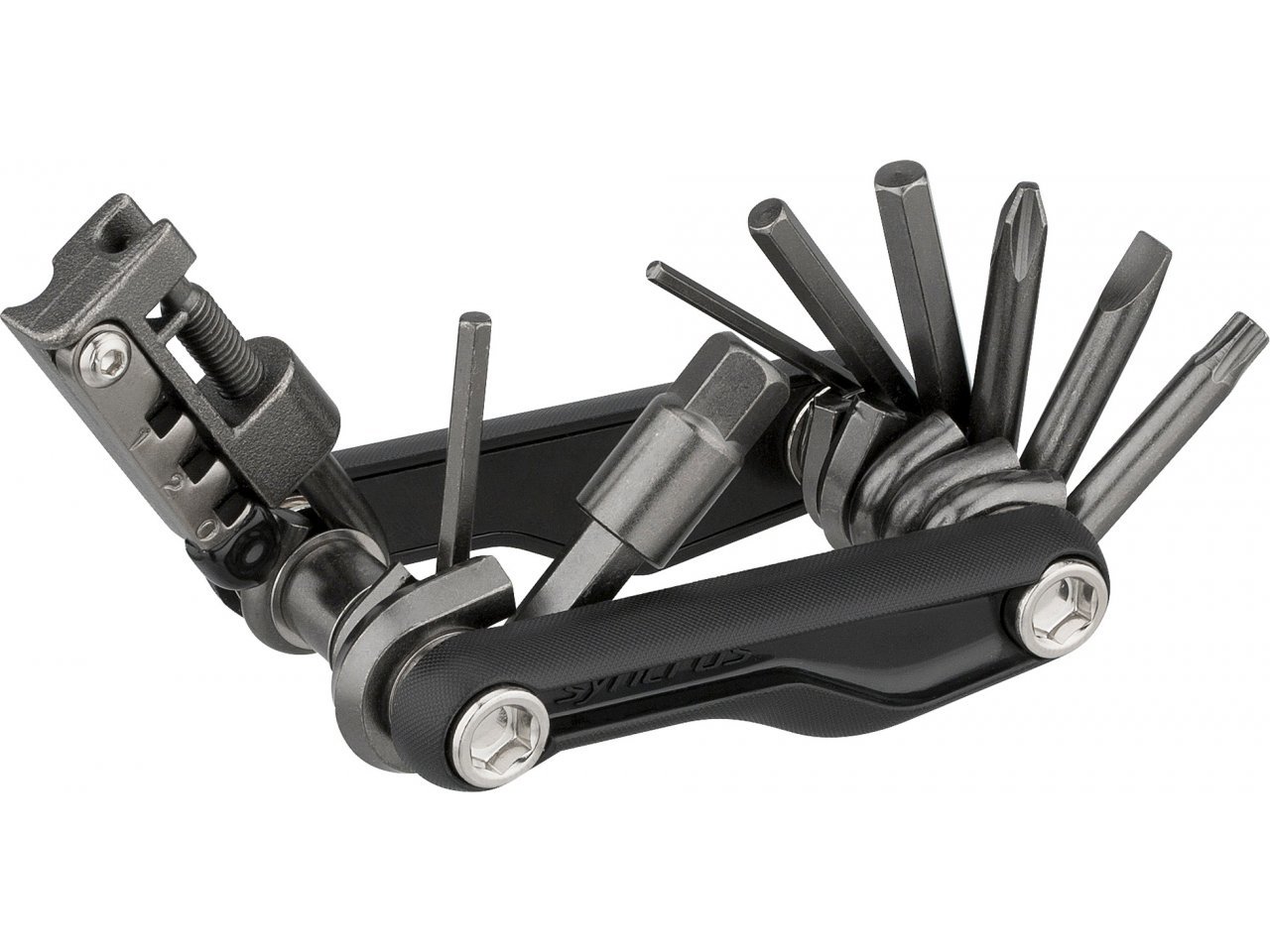 Packable Rain Jacket
Weather is a particularly unpredictable thing, basically in the location of mountains. So a sudden downpour of rain can happen at any time. At that moment, a lightweight, packable rain jacket can save you from the rainfall and keep your body dry and warm. So a packable rain jacket may be the best safety equipment for saving yourself from a sudden rain downpour.
First-Aid Kit
Accidents do not come alert. I think a first aid kit is one of the best carrying items that you would keep with yourself before going for a mountain bike tour. You must have a small first aid kit in a waterproof package with you that should include Bandages, gauze, disinfecting wipes, and tweezers are all items. It is the most useful item if you know the proper use of this item.
Small But Bright Headlight
Generally, in the situation of night, a small bright headlight is a must needed item. We all know that there haven't been any headlights like a motorcycle in a cycle when you buy this. But it plays a significant role while you are riding at night. You may have been ride at night when you will go for a mountain bike tour. So it would help if you carried a small but bright head-light with you because when you ride at night, you can fit it in front of your bike and ride properly at night.
I have described some necessary things to pack for an epic mountain bike touring in this whole article. For this article, some needed information was taken from a very reputed and trusted website on the internet. However, this is my personal opinion, and all the information may not be 100% accurate. If any information may be wrong to you, please inform us of the right one by adding your valuable comment on the comment box. Stay with us for the next further update.