There are so many different types of hobbies from which cycling is one of the best hobbies for anyone. A person can do anything just for satisfying hobbies. In that situation, cycling is not a big deal. Cycling is a favorite hobby for a cyclist, and a cyclist of Bangladesh travels to various places around the country. In this article, I will discuss cycling in Bangladesh and some bike routing locations in Bangladesh.
Quiet, Shady Roads Are Perfect
Basically, quiet and shady roads are perfect for cycling. A cycle is a two-wheeler simple machine. So cycling, it needs a quiet road that will not have any traffic. There always has been a possibility of an accident while you are cycling in the traffic. You won't get any side or space for being a two-wheeler when the heavy vehicles are still running on the road. So for enjoying a comfortable cycle journey, you should choose a quiet, traffic-free road. On the other hand, a shady road plays an important role when deciding to make a long trip by cycling.
A cycle is an open vehicle. When you ride it in the sun, you won't get any shade for riding to relax. When you ride for a long time in the sun, you will get tired and won't think the ride continues. But when you ride on a shady road, you will not be tired and can continue your journey.
Be Honest
Being honest is really important for all situations in life. It gives you the strength to move faster in life. And also in cycling. Being honest will make you a sharp cyclist. And will bring extra speed and energy to you. Being honest will also give you inner peace while cycling. Be honest with everything you have, and learn to appreciate the road and facilities. If you are riding with a cyclist team, be honest and gentle to others. And try to help them as much as you can. And you may get the help back when you need it the most. That's how a beautiful cycle ride can take place. You can't avoid being honest in a cycle tour.
Food, Water, And Overnight For Cycling
If you are on a cycle tour, you must take some dry foods with you. These foods can give you instant energy and refreshment to move on faster. And it will help you reduce tiredness if you feel lazy while cycling, you can take some foods like cake, biscuits, potato chips, and fresh fruits. This will give you the nutrition that will help you much to move on. And don't forget to take fresh and clean water. It's the most important thing to have. You will feel thirsty while riding, and you need water to drink.
While you are cycling, you sweat too much, And the demand for water in your body increases too much. That is why we feel thirsty. So do not forget to take water with you. It's essential. You can also mix glucose with the water. It will increase your stamina and can give you instant refreshment.
Take A Camera With You
We cycle to enjoy the environment and weather. Bangladesh is a country of green. So whenever you are on tour, never forget to take a camera with you. You can capture nature and keep the memory forever with you. It will make you feel so good. The beautiful nature is just too awesome. So keep the camera or mobile camera with you. Not only capturing nature.
Nowadays, the camera helps you to capture so many things that can go viral. Some unexpected things may happen, and you need to capture this. So it is essential to take a camera with you while you are on a ride. And you are on a cycle tour.
Bangladesh Bicycle Touring Route
It's tough to define roads for cycle touring. Each district, each city has awesome bicycle tracks. We can't name them all. If you ask the local cyclist or local boys, they will tell you the nearest bicycle touring route in your district. But if you want to have a long tour. And finding the best bicycling routes in Bangladesh, these routes are just for you. These roads are considered as one of the comfortable tracks for bicycle touring. Check on the below Image and know more about the route details.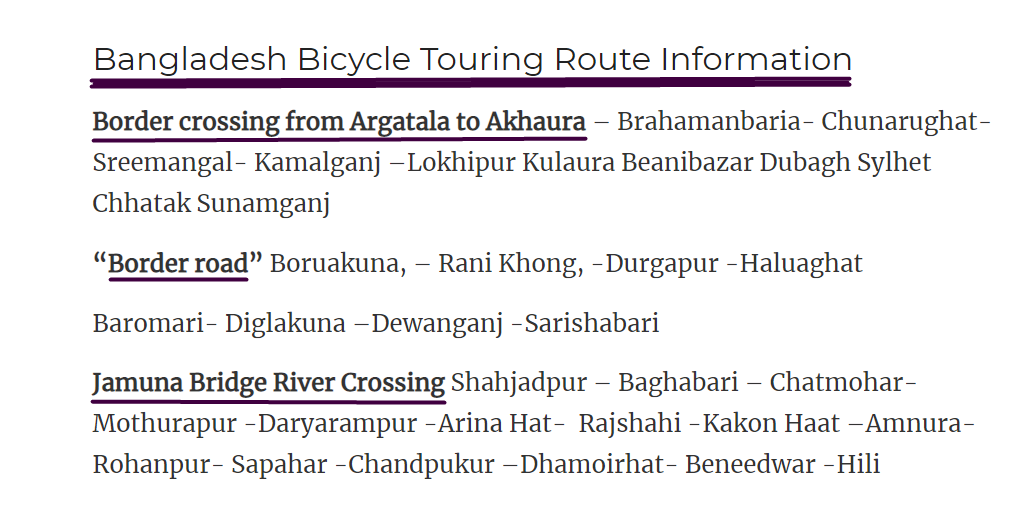 Bicycling is more than just a hobby. It's an exercise that energized you from the outside and inside. It refreshes your body and mind. If you have a cycle and want to enjoy the weather with your cycle, go on a cycle tour. Go alone or with friends. You won't regret it if you follow these headings. That's all for today, mate. Hope to meet u soon with a new article.